"Knowing I live in a dark age"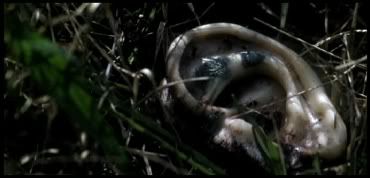 Knowing I live in a dark age before history,
I watch my wallet
and am less struck by gunfights in the avenues
than by the newsie with his dirty pink-chapped face
calling a shabby poet back for his change. - Milton Acorn
You may know the film
Blue Velvet
.
If you do, you know the scene between Jeffrey and Sandy in the car, parked outside a church. They'd been playing junior detectives since Jeffrey found a severed ear in a field, and now Sandy wants to hear what he learned in the apartment of the mysterious Dorothy Valens. Jeffrey's learned a lot; some of it about himself. What he's learned of others, he tells Sandy.
Dorothy's husband Don and their young son have been kidnapped by a man named Frank. ("I think he is holding them to make her do things for him.") The ear had been Don's, and was cut off as a warning for Dorothy to stay alive. ("I think she wants to die.") Frank deals drugs. Something Jeffrey doesn't discover until later is that Frank has some of the police force working for him.
When he's finished, Jeffrey turns to Sandy and blurts out, with comic anquish (this is, after all, David Lynch): "Why are there people like Frank? Why is there so much
trouble
in this world?"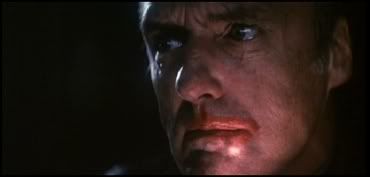 It's 7 am, I pick up the phone. Half asleep, "Hello?"…An oddly familiar male voice says: "Is Twee there?" "Who?" slowly, enunciating, he says: "Twee". "No!" I half yell, not knowing why. Who is this person waking me out of a sound sleep and asking for, did he say Twee? Yes. Asshole. I look at the screen, there is no number listed, it says "Restricted". Oh, great. I roll over and go back to sleep.
[From the email of a survivor of ritual abuse/mind control, reproduced with permission.]
"Why are there people like Frank?" The question isn't terribly penetrating. Not these days.
Think of what Frank Booth has made of himself in the nearly 20 years since the film's release. He's a congressman, he's a doctor, he's a judge, he's a Vice President. Frank Booth has done well for himself.
"Why are there people like Frank?"
Because there
can
be people like Frank. Because people like Frank, who
employ
the police, get away with it. Because they
are
the government.
To Jeffrey's question, Sandy responds by recounting a dream:
In the dream, there was our world, and the world was dark because there weren't any robins, and the robins represented love. And for the longest time, there was this darkness. And all of a sudden, thousands of robins were set free and they flew down and brought this blinding light of love. And it seemed that love would be the only thing that could make any difference. And it did. So, I guess it means that there is trouble until the robins come.
One way of solving the philosophical problem of evil is to do away with good. Because good is the singular problem for people like Frank.
Rather than ask why such people exist, a better question for our dark age may be,
Why are there people like Sandy?
That's the question that troubles the Franks, who trouble the world. They see the good and despise it as weakness, yet it remains a mystery to them. For the suckers they assume a display of sham piety, but they regard themselves as raised above the slave moralities of meat puppets, who still believe in justice. (The Bolivaran Revolution, perhaps, is a mystery the Franks find inexplicable and ridiculous, as they must have found Che Guevara's words, that "the true revolutionary is guided by great feelings of love.")
And I have a low bar when it comes to doing good. I mean simple things. Like calling someone back for change. Like not killing innocent people. Like not harming children.
"Twee" I start to raise my voice. "I know who Twee is, oh God, I know who Twee is!"
That phone call, it was no accident, no wrong number. I am "in session" with my therapist. My head has been spinning and I can't get clear, I can't get out of whatever has turned my thinking to mush for over a week. Finally, near the end of my hour, it starts to come. Twee is 3. Corroboration from narrative memory: mother never let me forget how I couldn't pronounce my r's and l's as a child. How clever. I remember the doctor asking "And how old are you?" Holding up 3 fingers I say, proudly, "Twee". "Ah, then, that is what we will call you."
Sometimes I feel as though I'm hiding in Dorothy Valens' closet, seeing more than I was prepared to see, wondering how I got there, and why. And knowing, if I can't come up with some good answers, soon, then there's that later scene with Frank, where he looks over the car seat, takes a hit of gas and murmurs "You're like me." Without good answers, I'll have nothing to say to that.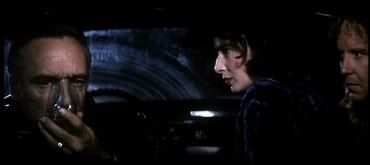 "Lie down here now little girl." He says, guttural, thick, German.
His stubby fingers point. I am on the table and my arms are being clasped in the leather buckles. "What is your name?" He asks. I am so young, but somehow I know to say "Twee". "Watch." He points to the ceiling. I see a picture above me, it is just a black line on a white background, it is like a movie, it is made with light. There are wires on my head. I am terrified. The table begins to turn. I do not know how it is done, how is the table turning? "Watch!" He yells. I stare at the ceiling as it begins to turn around too. If I try to look away the pain starts, searing pain in my temples, down my legs, my toes? I can't really feel them. I don't know where they are. The black line begins to make a blurry picture. It is all I know, it is all I can see, the tornado. There is fatigue, and nausea, and I want it to stop, please stop. I cannot make my eyes stay anymore. I start to cry, but I know better because the searing pain comes quickly again.
Rather than bleeding hearts, we need big hearts. Heavy, swollen hearts, that just can't bear anymore. And because they can drive us to action, rather than to the dead end of cheap sentiment, hearts like those can become weapons.
The late Canadian poet Milton Acorn, who wrote "Take this heart to grow a man around," also wrote this:
Doctor listened with his stethoscopeTo my inner machinery, and said"You've got a big heart; thumping out timeAll around your chest."I said, "Yes I knowSince every undeservedly aimed blowEver driven at anyone has hit it."It's swelling all the time with hopeFor this one, that one, others popping outFrom wombs firing like machine-guns;Each new person jumped and mugged for profit,Learning language by hearing himself cursedFor being here and ever having doneAnything except for a bully's gain:Starting with the crime of birth."Doctor: it's for a bomb I need this big heartTo smash those liars into a great squashed stainWhen the pressure jumps too much, and it blows apart."